FC800 – 8MP 4K True Full Color Night Vision Security Camera- 4 PCS
In Stock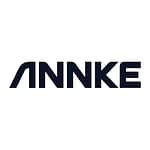 Description
4K True Full Color Night Vision with Advanced Sensor
ANNKE 4K analogue security cameras with incomparable advanced sensors produce the clearest 8MP Ultra HD 24/7 colourful images day & night – turn night into day.
Others
ANNKE FC800 System
ANNKE Breakthrough Full Color Night Vision Tech
Not all security cameras with IR LEDs or supplement lights are rated as full-color night vision security cameras. ANNKE FC800 System's exceptional ability to capture full color night vision images lies in the 3 powerful hardware parts: the advanced lenses, top-notch sensors & the supplement light.
Advanced Lens

F1.0 super aperture collects 4 times of light than F2.0

Friendly Supplement Light

Provides enough lighting in complete darkness

High-Performance Sensor

Improves the utilization of light & removes noise with 3D DNR
Others
ANNKE FC800 System
Up to 100 ft Friendly Supplement Light
The warm supplement light can imitate the natural daylight, and help the analogue security cameras produce crystal full-color night vision images just like daytime, even in low-light conditions.
Most Advanced H.265+ Video Format
With the H.265+ video coding, ANNKE FC800 System provides a longer recording time than H.265/H.264+/H.264 IP or analogue systems, saving the costs of buying extra HDDs. Get a fast live view without latency.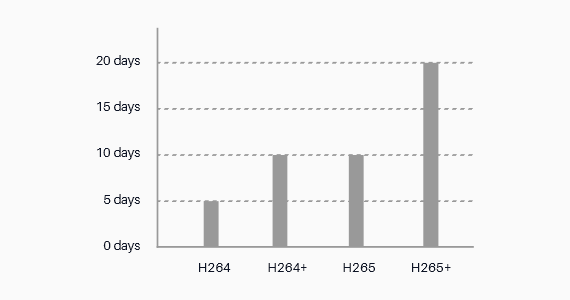 100% UL-Certified for the Safest Use
UL (Underwriters Laboratories) has tested the whole system via 10+ methods to ensure it's safe to operate. The UL certification ensures that every material and every part is secure and won't impact your health.
What's in the Box
Security Cameras(The quantity varies based on your choice)
Power Adapter(The quantity varies based on your choice)
60 ft/18.3 m BNC Cables(The quantity varies based on your choice)
1-to-4 Power Splitter(The quantity varies based on your choice)
1X User Manual
Mounting Screw Kits
Camera
| | |
| --- | --- |
| Image Sensor8MP CMOS Image Sensor | Video Resolution3840 (H) X 2160 (V) |
| Signal SystemPAL/NTSC | Frame RatePAL: 8MP@12.5 fps; NTSC: 8MP@15 fps |
| Lens3.6 mm | Angle of View79° |
| Min. IlluminationColor: 0.02 Lux @(F1.2, AGC On) | Light DistanceUp to 100 ft/30 m |
| Number of Warm Light1 | DNRSupport |
| Wide Dynamic RangeDigital WDR | Video OutputHD BNC X1 |
General
| | |
| --- | --- |
| HousingPlastic | ColorWhite |
| Operating PowerDC 12 V | Operating Temperature-40 °F – 140 °F/-40 °C – 60 °C |
| Indoor/OutdoorIndoor/Outdoor | Weatherproof RatingIP67 |
| Dimension2.76" X 6.08"/70  X 154.5 mm | Weight0.33lb./ 150 g |
Only logged in customers who have purchased this product may leave a review.
Quick Comparison
Settings
FC800 - 8MP 4K True Full Color Night Vision Security Camera- 4 PCS

remove

NightChromaTM NCK400 - 4MP 8 Channel 4 Camera PoE Security System

remove

NightChromaTM NCK800 – 4K 16 Channel 8 Camera PoE Security System

remove

4K 4 Channel H.265+ PoE NVR

remove

NightChromaTM NCA500 - 5MP Acme Color Night Vision Security TVI Camera

remove

NightChromaTM NDK800 – 4K 8 Channel 2 Panoramic Dual Lens Camera PoE Security System

remove

Name
FC800 - 8MP 4K True Full Color Night Vision Security Camera- 4 PCS

remove

NightChromaTM NCK400 - 4MP 8 Channel 4 Camera PoE Security System

remove

NightChromaTM NCK800 – 4K 16 Channel 8 Camera PoE Security System

remove

4K 4 Channel H.265+ PoE NVR

remove

NightChromaTM NCA500 - 5MP Acme Color Night Vision Security TVI Camera

remove

NightChromaTM NDK800 – 4K 8 Channel 2 Panoramic Dual Lens Camera PoE Security System

remove

Image
SKU
AU-CR1CC*4
Rating
Price

£

191.98

£

857.98 –

£

1,169.98

£

4,128.78 –

£

4,744.98

£

168.98 –

£

584.98

£

1,403.98 –

£

1,874.58
Stock

In Stock

In Stock

In Stock

In Stock

In Stock

In Stock

Availability
In Stock
In Stock
In Stock
In Stock
In Stock
In Stock
Add to cart
Description
Equipped with a remarkable f/1.0 Super Aperture, this system maximizes light sensitivity, ensuring exceptional image quality day and night. Experience enhanced clarity and reduced noise, giving you the peace of mind of knowing you won't miss a single detail.
Advanced Intelligence at Your Fingertips: Benefit from intelligent behaviour analysis, human and vehicle detection, and 2CH 4K decoding capability. Our system ensures you receive accurate notifications and alerts, making it easier than ever to identify potential threats.
Upgrade your security system with our state-of-the-art 4K 4 Channel H.265+ PoE NVR. Experience unparalleled video quality and clarity, capturing every detail with stunning precision. With RTSP and ONVIF support, our NVR seamlessly integrates with your existing cameras and network infrastructure, providing a hassle-free setup.
Step into a new era of smart security with the NightChromaTM NCA500. Bid farewell to dull black and white or blurry colour night vision captured by traditional cameras. Instead, experience a transformative leap as we unveil the power of unrivalled Acme colour night vision.
Enhanced security features include an Active Siren and Strobe, ensuring immediate attention is drawn to potential threats. The system's advanced Human & Vehicle Detection capabilities provide intelligent monitoring, alerting you to relevant activity while minimising false alarms.
Content

4K True Full Color Night Vision with Advanced Sensor

ANNKE 4K analogue security cameras with incomparable advanced sensors produce the clearest 8MP Ultra HD 24/7 colourful images day & night - turn night into day.

Others
ANNKE FC800 System

ANNKE Breakthrough Full Color Night Vision Tech

Not all security cameras with IR LEDs or supplement lights are rated as full-color night vision security cameras. ANNKE FC800 System's exceptional ability to capture full color night vision images lies in the 3 powerful hardware parts: the advanced lenses, top-notch sensors & the supplement light.

Advanced Lens

F1.0 super aperture collects 4 times of light than F2.0

Friendly Supplement Light

Provides enough lighting in complete darkness

High-Performance Sensor

Improves the utilization of light & removes noise with 3D DNR

Others
ANNKE FC800 System

Up to 100 ft Friendly Supplement Light

The warm supplement light can imitate the natural daylight, and help the analogue security cameras produce crystal full-color night vision images just like daytime, even in low-light conditions.

Most Advanced H.265+ Video Format

With the H.265+ video coding, ANNKE FC800 System provides a longer recording time than H.265/H.264+/H.264 IP or analogue systems, saving the costs of buying extra HDDs. Get a fast live view without latency.

100% UL-Certified for the Safest Use

UL (Underwriters Laboratories) has tested the whole system via 10+ methods to ensure it's safe to operate. The UL certification ensures that every material and every part is secure and won't impact your health.

Introducing the NightChromaTM NCK400 - Advanced 4MP 8-Channel PoE Security System with Acme Color Night Vision and Super Aperture f/1.0. Experience the future of surveillance with this cutting-edge system that combines superior technology and precision engineering. With its four high-resolution cameras and 8-channel capacity, you can easily monitor every corner of your property. Its groundbreaking Acme Colour Night Vision sets the NightChromaTM NCK400 apart, offering unrivalled clarity and detail even in low-light conditions. Say goodbye to grainy footage and hello to vivid, true-to-life colours that capture every crucial moment. Equipped with a remarkable f/1.0 Super Aperture, this system maximizes light sensitivity, ensuring exceptional image quality day and night. Experience enhanced clarity and reduced noise, giving you the peace of mind of knowing you won't miss a single detail. With Active Alignment technology, the NightChromaTM NCK400 guarantees precise camera positioning for optimal coverage and accuracy. Rest assured that you'll clearly see any potential threats or suspicious activities. Upgrade your security measures today with the NightChromaTM NCK400. Immerse yourself in a world of superior surveillance and unparalleled performance. Trust in our state-of-the-art technology to protect what matters most to you.
Introducing the NightChromaTM NCK800 – A Powerful 4K 8-Channel PoE Security System with Enhanced Features. Experience superior security with our state-of-the-art surveillance solution. Equipped with cutting-edge technology, this system offers unmatched performance and reliability. Capture Crystal Clear Details: With 4K resolution and 8-channel support, our NCK800 system delivers unparalleled image clarity, capturing every detail precisely. Unleash the Power of Color Night Vision: Thanks to the f/1.0 Super Aperture, our system provides exceptional low-light performance, allowing you to see vivid, full-colour images even in the darkest conditions. Advanced Intelligence at Your Fingertips: Benefit from intelligent behaviour analysis, human and vehicle detection, and 2CH 4K decoding capability. Our system ensures you receive accurate notifications and alerts, making it easier than ever to identify potential threats. Immersive Wide-Angle Viewing: With a 124° Field of View (FoV), our cameras provide expansive coverage, minimizing blind spots and maximizing your surveillance reach. Built-in Mic for Enhanced Audio: Enjoy the added advantage of a built-in microphone, enabling clear audio capture to complement the visual feed, ensuring comprehensive security monitoring. Reliable and Easy-to-Use: Our NCK800 system is designed with your convenience in mind. Installation and setup are hassle-free, and the intuitive user interface allows for effortless monitoring and control. Elevate your security to the next level with the NightChromaTM NCK800 – your trusted solution for protecting what matters most. Experience unparalleled performance and peace of mind. Upgrade your security system today.
4CH PoE IP Camera Input This PoE NVR is plug and play, easy to configure, access and control. You can connect all your PoE IP cameras to the NVR and manage them directly through their ethernet cables for ultimate ease and convenience in a home security system. Powerful NVR with Strong Compatibility This NVR is connectable to PoE IP cameras of up to 4K resolution. You can take full advantage of your cameras and control them. Connectable to IP Cameras Supporting H.265+ IP cameras supporting H.265+/H.265/H.264+/H.264 coding formats are connectable to the NVR. After adding a camera supporting H.265+, you can enable it to maximize storage space and enjoy ultra-long recording, up to 7x longer than H.264 under normal conditions. Customizable Motion Detection You can mark out the relevant areas for motion detection to minimize false alerts and save storage space. Besides, if you don't want others to view certain areas' recordings, you can block out these areas on each camera too effectively. Smart Motion-Triggered Alerts Whenever motion detection is triggered in your customized areas, you will receive instant email alerts with snapshots and app alarm pushes even when you're away. Thus, you can know what happens in your house and take appropriate precautions promptly. Quick Remote Monitoring Consolidating your security system into your smartphone, tablet, and PC can be simple with our free viewing app. Download "Annke Vision" on your mobile devices, quickly scan the QR-code to add the system, and then watch live video from anywhere. 4K Video Output to Display Ultra Clearness This surveillance NVR supports up to 4K video input/output. You can add 4K cameras to this NVR, then connect it to your exquisite 4K TV or monitor to display top-of-the-line megapixel quality. Now it is easier to capture all the tiny details you need, like license plates, faces, packages, etc. Save Time with Smart Search/Playback Function The smart search function allows you to mark out the specific area you need for playback. And the smart playback function can fast-forward or skip the still images and offer you the video with movements in your selected areas and period. While with normal playback, you need to check the video with movements frame by frame manually.

NightChromaTM NCA500: Elevate Your Security with Unmatched Acme Color Night Vision

Step into a new era of smart security with the NightChromaTM NCA500. Bid farewell to dull black and white or blurry colour night vision captured by traditional cameras. Instead, experience a transformative leap as we unveil the power of unrivalled Acme colour night vision. Say goodbye to darkness and embrace a 5MP colourful world, even in extreme low-light conditions as low as 0.0005 lux without ambient lighting, or an astounding 0 lux with supplementary light.

Unparalleled Clarity with f/1.0 Super Aperture

The NCA500's remarkable f/1.0 super aperture lens delivers exceptional clarity and image quality, capturing every detail vividly and accurately, even in challenging lighting scenarios. There are no more compromises on image clarity, as the NCA500 sets the bar higher than ever.

Unleash the Power of a BSI Sensor

Equipped with a powerful BSI (Backside Illuminated) sensor, the NCA500 delivers outstanding low-light performance, capturing stunningly clear and noise-free images even in the darkest corners. Our cutting-edge technology guarantees optimal image quality, providing you with the utmost confidence in your security system.

Precision Meets Innovation with Active Alignment Tech

The NCA500 combines precision engineering and innovative active alignment technology to deliver precise focus and alignment, ensuring that every frame is sharp and distortion-free. With this advanced technology, you can trust that every detail within your surveillance area is captured accurately and reliably.

Illuminate with Confidence up to 100 ft with Supplement Light

Never compromise on visibility, even in the darkest environments. The NCA500 has a 100 ft supplement light capability, enabling clear and detailed footage even in complete darkness. Feel secure knowing that your property is under constant surveillance, day or night. Experience a new level of security with the NightChromaTM NCA500. Don't settle for less when it comes to protecting what matters most. Upgrade to unrivaled acme color night vision and discover a world of enhanced security and peace of mind.
Experience unparalleled security with the NightChromaTM NDK800 4K 8-Channel PoE Security System. This cutting-edge system features a 1 Panoramic Dual Lens Camera with a remarkable f/1.0 Super Aperture, delivering exceptional image clarity and detail. With Acme Color Night Vision technology, you can rely on superior visibility even in low-light conditions. Enhanced security features include an Active Siren and Strobe, ensuring immediate attention is drawn to potential threats. The system's advanced Human & Vehicle Detection capabilities provide intelligent monitoring, alerting you to relevant activity while minimizing false alarms. Equipped with 2CH 4K Decoding Capability, the NDK800 offers seamless playback and live viewing in stunning 4K resolution. Plus, the built-in microphone captures audio, adding an extra layer of surveillance to your setup. Invest in the NightChromaTM NDK800 to enjoy comprehensive security coverage and peace of mind. This state-of-the-art security system protects your property, loved ones, or business.
Weight
N/A
N/A
N/A
N/A
N/A
N/A
Dimensions
N/A
N/A
N/A
N/A
N/A
N/A
Additional information

| | |
| --- | --- |
| HDD Capacity | 1TB, 2TB, 3TB, 4TB, 6TB, None |
| Appearance | Bullet, Turret |

| | |
| --- | --- |
| HDD Capacity | 10TB, 1TB, 2TB, 3TB, 4TB, 6TB, 8TB, None |
| Appearance | Bullet, Turret (Black), Turret (White) |

| | |
| --- | --- |
| HDD Capacity | 1TB, 2TB, 3TB, 4TB, 6TB, 8TB, None |

| | |
| --- | --- |
| Weight | N/A |
| Appearance | Bullet, Turret |

| | |
| --- | --- |
| Appearance | Bullet, Turret |
| HDD Capacity | 10TB, 1TB, 2TB, 3TB, 4TB, 6TB, 8TB, None |